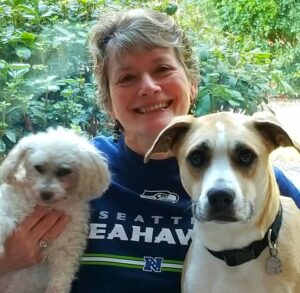 Toni is inspired by the compassionate support the animal shelter's staff gives to their animals, and is very supportive of their programs especially their low cost spay/neuter program and their mission to protect animals from abuse, neglect and abandonment.
Toni first volunteered with APS-FH several years ago, spending lunch hours walking dogs and doing yard clean-up.  Happily, she became a member of the Board in 2016.
Toni's professional background is in the administrative sector with a career spanning a variety of industries, including export, engineering, tax, insurance, biotech and law.  She is currently retired and very excited to be part of the APS-FH, as animals are a very important part of her life.  She hopes one day there is a loving home for every unwanted animal, affordable medical care for every sick and injured animal and an end to animal abuse and cruelty.
Originally from Northern California, Toni moved to Friday Harbor in 2000 with her husband Bob. They live with their two dogs, which are both rescues from APS-FH: Charlie, a senior Toy Poodle and Moose, who is STILL a puppy at 63 pounds, but trying to become a well-mannered, adult furry person.  We love them so!
Aside from her love of animals, Toni enjoys gardening, traveling, walking on the beach, swimming, drawing and spending time with her husband and children Kelly and Chris and her grandchildren, Sammy and Maddie – that is when the COVID-19 allows her to do so.