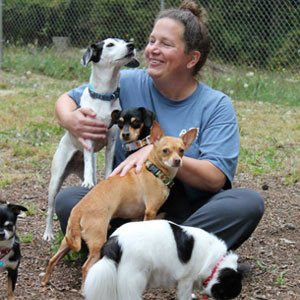 Adoptions/Animal Care

Dyan feels she has fulfilled a life-long dream, working every day to speak for the voiceless animals in need of shelter and forever homes.
Dyan Shober, known as "Dy", moved to Friday Harbor in June 2013 from Minnesota to help care for her aging father.  Upon moving to San Juan Island, she took a position at Islands Veterinary Clinic as a Veterinarian Technician, where she furthered her education and love for animals.  Dyan also started her own mobile pet grooming business.  You may even see her at times giving a nail trim or two inside a client's car or in a parking lot.  In May, 2015 Dy came to work at APS-FH.
Dyan feels like she found her lifetime calling working at the Animal Protection Society where she looks forward to going to work every day.  Of course, working at an animal shelter has increased the size of Dy's family by two, as she has adopted two dogs in need of homes since coming to work at APS.  Dyan has a special place in her heart for the elderly and special needs animals.