Volunteer of the Month Jan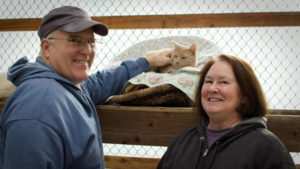 The animal shelter is pleased to announce Dave and Nancy Harvey are the Volunteers of the month for January. Dave and Nancy have volunteered at the shelter for over three years and were the recipients of the First Annual, "Amy Lear Compassion in Action Volunteer of the Year Award" in 2016.
The couple donate several hours of time every week, socializing and visiting with the cats at the shelter. The cats are brushed, loved and given lots of treats when the Harveys visit.
On behalf of the APS-FH staff, board of directors, and some very grateful cats, "Thanks so much, Dave and Nancy!"