The Animal Shelter
The APS-FH Animal Shelter follows The Association of Shelter Veterinarians (ASV) Standards of Care in Animal Shelters ("guidelines") to provide the highest quality housing, medical, and behavioral care of pets living in the shelter. We adopt between 200-400 dogs and cats into loving homes each year. We also partner with the local Sheriff's Department to provide animal control, return to owner, and dog licensing services on San Juan Island.
Community Outreach & Humane Education
This program aims to promote a deeper understanding of companion animals and instill a sense of responsibility and empathy towards them. APS-FH provides a variety of avenues through which individuals of all ages have opportunities to connect with companion animals and explore the benefits of having them in our lives. Through community outreach events, interactive and hands-on experiences, volunteer opportunities, and trainings and workshops, we invite our community to actively contribute to the care and welfare of companion animals, gain a deeper understanding of the challenges faced by shelters and the needs of homeless pets, and learn about responsible pet ownership and the advantages of adopting pets from shelters. The program's goal is to create a society where animals are treated with love, care, and respect.
Pet Food Pantry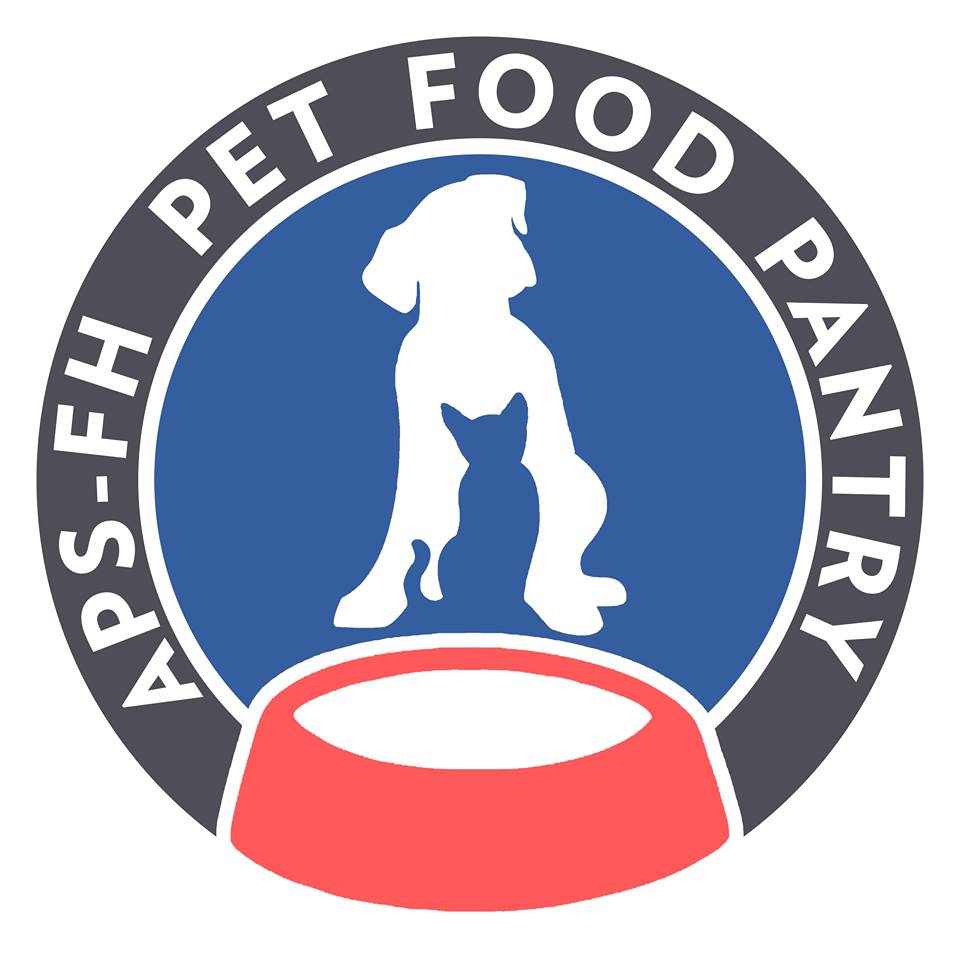 The Pet Food Pantry (PFP) is a community pet food bank established to help keep pets in their homes by providing cat and dog food and other basic pet supplies for families in need of temporary assistance. We also partner with local human service organizations to get pet food and supplies to people who cannot make it to the pantry.
Participants must be San Juan County residents, be 18 years or older, have their pets spayed or neutered or be working toward having pets spayed or neutered. (If they are not, APS-FH can help!).
APS-FH gratefully accepts both cash and pet food donations to keep this program going. Cash donations are great because we have access to buy at a discount rate, however, any non-expired canned and dry pet foods are also desired.
Phone: 360-378-2158
Location: 356-C Spring Street (Treasure Hounds Store)
Day/Hours: Every other Wednesday 11 am – 2 pm
Schedule:
2023
October 4, 18
November 1, 15, 29
December 13, 27
2024
January 10, 24
February 7, 21
March 6, 20
April 3, 17
May 1, 15, 29
June 5, 19
July 3, 17, 31
August 14, 28
September 11, 25
October 9, 23
November 6, 20
December 4, 18
Trap-Neuter-Return (TNR) Program: The Humane & Proven Way to Control Feral Cat Populations
Do you feed or care for community cats (aka ferals)?
Please have them spayed/neutered to help decrease overpopulation… WE CAN HELP! Contact APS-FH for details and information 360-378-2158
WHAT IS A "COMMUNITY CAT"? Community Cats is a term used to describe outdoor, unowned, free-roaming cats. These cats could be friendly, feral, adults, kittens, healthy, sick, altered and/or unaltered. They may or may not have a caregiver. By this definition, the only outdoor free-roaming cats who are not community cats are those who have an owner.
WHAT IS TNR? TNR stands for Trap, Neuter & Return. APS-FH promotes TNR as the humane solution to the community cat, over-population problem. It is a program that stops breeding by trapping, spaying, or neutering and then returning cats to their original location (when possible).
This Program:
Ends the breeding cycle and stabilizes the population.
is more effective and humane than extermination.
eliminates or minimizes annoying behaviors such as spraying, yowling, and fighting.
reduces the number of under-age kittens flooding animal shelters.
HOW DOES IT WORK?
TRAP – The cats are humanely trapped.
NEUTER – The cats are taken to APS-FH where our vet then spays/neuters them. The left ear is "tipped" so people will recognize they have been sterilized and not attempt to trap them again.
RETURN – The cats are returned to their caregivers, who agree to continue to provide them with food, water, and some type of necessary shelter. Other options are to relocate them to properties and barns where they can be "working cats".
WHY IS TNR IMPORTANT? Cats can breed as early as 4 months of age and can produce multiple litters in one year. If nothing is done to sterilize colonies of community cats, the problem will most likely reach unmanageable levels and lead to unnecessary suffering.
The APS-FH Low-Cost Pet Clinic: Increasing community access to veterinary care and keeping people and pets together.
The Clinic is located at: 938 Cattle Point Road in Friday Harbor.
QUALIFICATION FOR CLINIC SERVICES
You must be a current resident of San Juan County and qualify as a low-income household Per the guidelines below:
1 Person $43,900 or below
2 Person $50,200 or below
3 Person $56,450 or below
4 Person $62,700 or below
5 Person $67,750 or below
Proof of income may be required to receive services. If you need additional financial assistance to afford these services, please call 360-378-2158 or email us at shelter@apsfh.com prior to scheduling your appointment. If your request for financial assistance is approved, fees will be adjusted at the time of payment.
Spay/Neuter Clinic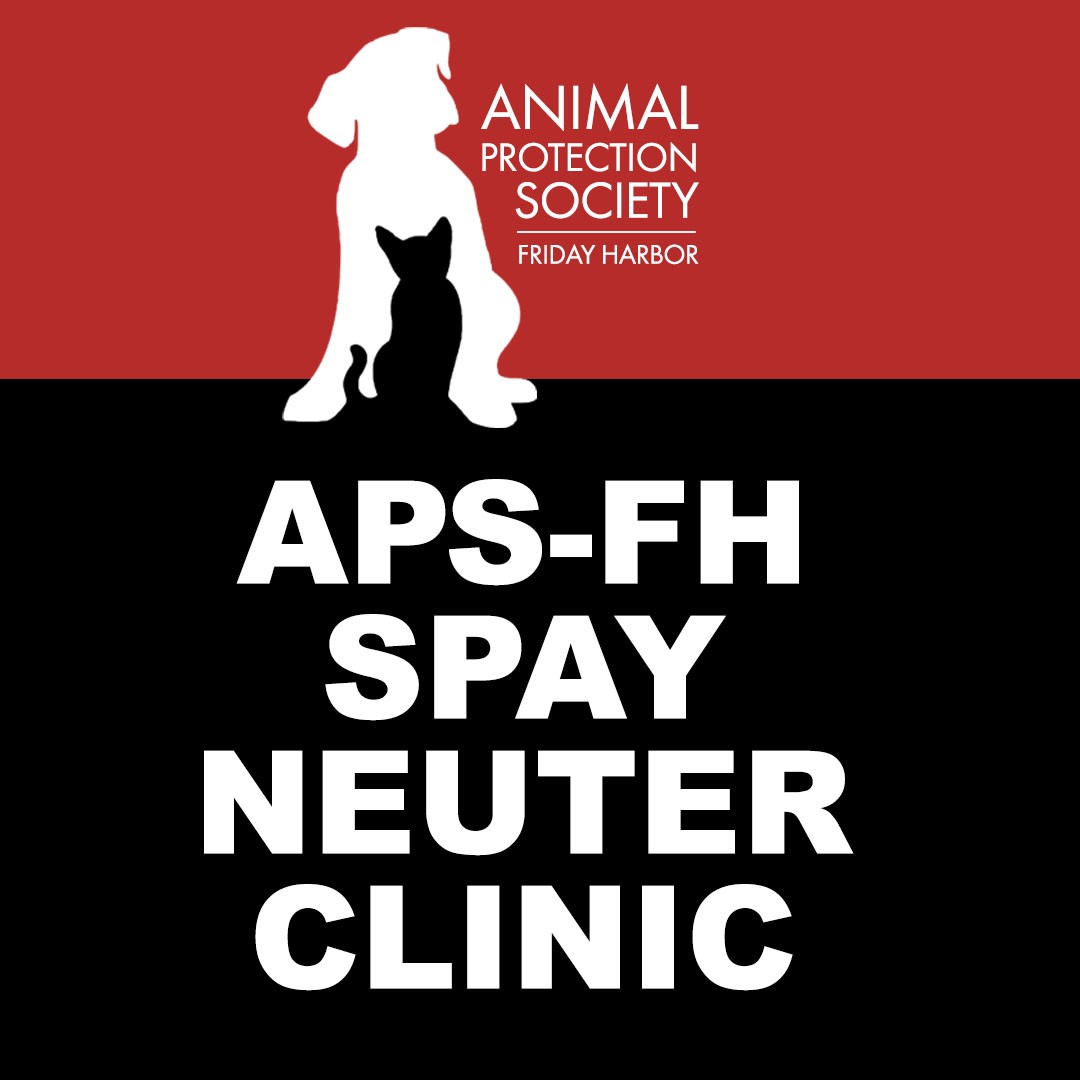 Providing weekly affordable spay/neuter services with additional add-ons of vaccines, microchipping, and flea treatment for the pets of low-income San Juan County residents and other local shelters and rescues.
SPAY/NEUTER CLINIC SERVICES & COSTS
Dogs:
Spay – Neuter 0 – 59 lbs $70
Spay – Neuter over 60 lbs $90
Vaccinations: Distemper (DA2PPV), Rabies, Bordetella $15/each
Cats:
Spay (female) $45
Neuter (male) $30
Vaccinations: Distemper (FVRCP), Rabies $15/each
Additional Services:
Microchipping $20
E-Collar (dogs only) $10
Revolution Flea Treatment (per dose) $15
THE DETAILS
If animals are 4 months old, we require rabies vaccination prior to surgery (rabies vaccinations are available through our clinic for an additional fee).
If your pet has been seen by a vet, providing vet records is preferred upon arrival for surgery (if needed, we can also call to obtain vet records).
Request for services will be put on a waitlist, someone from the Medical Team will call to schedule your pet's surgery when space becomes available.
All surgeries are done on Tuesday's. Drop off time is 8:30am, pick up time is around 4pm.
Canine surgeries are the 2nd Tuesday of every month, felines are the 4th Tuesday of every month. We may have additional availability on other surgery days. We will reach out to those on the waitlist if a sooner date becomes available.
TNR is accepted any Tuesday, but please call in advance if you are planning to start trapping.
Low-Cost Pet Wellness Clinic
Providing Low-Cost Exams, Vaccines, Microchips and More. Services are limited to low-income residents of San Juan County.
**Please note: our wellness clinics are designed to offer preventative care to pets, and we are not able to treat sick or injured animals at these visits.
UPCOMING CLINICS:
November 28, 2023 9am-12pm
December 19, 2023 9am-12pm
LOW-COST PET WELLNESS CLINIC SERVICES & COSTS
Dogs:
Exam – $35
DHPP vaccine: $15
Bordetella vaccine: $15
Rabies vaccine: $15
Microchip and registration: $20
Single dose flea treatment: $15
Cats:
Exam – $35
FVRCP vaccine: $15
Felv vaccine: $20
Rabies vaccine: $15
Felv/FIV test: $40
Microchip and registration: $20
Single dose flea treatment: $15
Our Low-Cost Pet Wellness Clinic services are supported through grants from the San Juan Island Community Foundation and their donors, the San Juan Women's Fund, and The Grey Muzzle Organization.
Transport Program
APS-FH Transport Program works with other shelters, rescues, and transport organizations to safely transfer cats and dogs out of high-kill shelters, over-impacted and disaster areas into the APS-FH shelter for adoption. We prioritize Washington based shelters/rescues when the need is prevalent.
If you are interested in helping transport homeless pets from off-island locations to APS-FH, please call the shelter at 360-378-2158. WE NEED YOU!
Seniors for Seniors
This program waves the adoption fee for low-income senior citizens adopting senior pets. The program is for anyone over age 65 who adopts a pet aged seven or older and who meets the local threshold as low-income. In addition to a waived adoption fee, Seniors for Seniors will assist senior citizens in keeping their pets happy and healthy with a variety of supportive services that may be offered upon request. Please contact the shelter if you are a Senior Citizen with an APS-FH adopted senior pet and you require support services.
Foster Care Program
The Foster Care Program places orphaned, pregnant, newborn, injured, sick, and under-socialized pets into private homes for temporary housing. Some of the shelter's most vulnerable residents benefit from foster care, which provides them with time outside of the shelter to decompress. Foster care gives us an opportunity to learn more about the pet by providing a glimpse into how they behave in a home setting. The APS-FH shelter is limited in space and the Foster Care Program expands our capacity to help homeless pets.
If you are interested in becoming one of our Foster Care Families, please call the shelter at 360-378-2158. WE NEED YOU!
Short-Term Emergency Housing for Pets
APS-FH offers short-term emergency housing for pets within our shelter, based on space availability, as well as in foster homes when possible. This service is provided to support individuals facing temporary crises or unexpected transitions. We collaborate with various local human service organizations that refer clients to our program and help determine low-income eligibility.
The Grey Muzzle Medical Fund

The Medical Fund is funding made possible by a grant from the Grey Muzzle Organization to help low-income pet owners access regular and specialty veterinary care and prescriptions for their senior dogs by providing up to $1000 per dog (this is a limited fund and may not always be available), paid directly to vet clinics and vet hospitals. We partner with local human service organizations that refer clients to our program and help determine low-income eligibility.
Cremation Services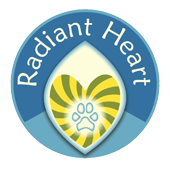 Pet loss can be traumatizing, heartbreaking, stressful, and sometimes expensive. APS-FH is proud to announce that we have partnered with Radiant Heart After-Care for Pets to provide compassionate and affordable cremation services to San Juan Island residents. Radiant Heart, located in Bellingham, Washington, is a pet funeral home with on-site cremation, offering personal and respectful care for you and your pet. They provide eco-friendly cremation and traditional flame cremation as well as many additional products and services to honor your pet.
Radiant heart visits APS-FH multiple times a month, therefore your loved one's cremains are always returned in a timely manner. Cremation Services are currently available to all community members regardless of income status; prices range depending on the types of cremation (communal versus private), size of the pet, and any additional services requested. Call APS-FH to learn more about this new service and visit radiant hearts website at https://radiant-heart.net\ to learn more about their process.
APS-FH does not currently offer euthanasia services to owned pets. Any pets brought in for Cremation Services will have to have passed away naturally or been humanely euthanized by your regular vet.
Did you know 1 in 3 pets will go missing in their lifetime?
We're partnering with Petco Love Lost to help pets reunite with their families. Petco Love Lost is a free, easy-to-use national resource, using patented pet facial recognition technology to make it easier than ever to find possible matches for lost and found pets. Join us, and let's unite to reunite at petcolovelost.org.