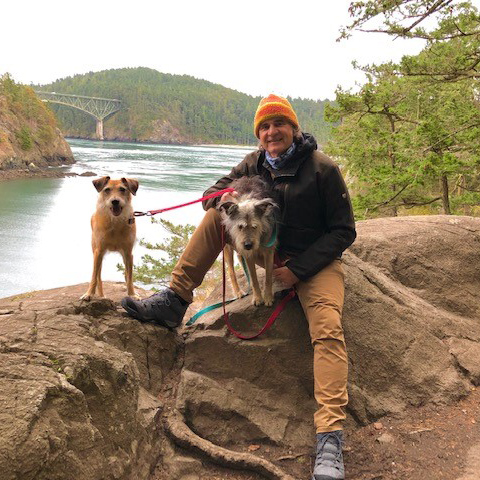 The Animal Protection Society – Friday Harbor is pleased to present Marko O'Connor as APS-FH Volunteer of the Month for October 2021.
Marko connected with APS-FH through our home furnishings resale store, "Treasure Hounds". After purchasing a table and chair set, Marko noticed a couple struggling to get their own purchase into their car. He went over to help and then left his phone number with the volunteer store clerk saying, "if anyone ever needs help again, call me, I feel I was born to move furniture".
Well, that is an offer we couldn't pass up! It didn't take long before we were calling Marko for help. Since that day Marko has helped to build storage shelves in the back of the store, move furniture around (for hours!) during a store revamp, load numerous people's purchased items into their vehicles, and coordinate the pick up of furniture donations from donor's homes. He even introduced his wife Yoshi to APS-FH who is now a weekly volunteer at Treasure Hounds.
Marko is generous with his time and willing to do the hard work – it is not everyday we meet someone who was "born to move furniture". Thank you Marko for being there for the staff and animals of APS-FH. You are making a difference!