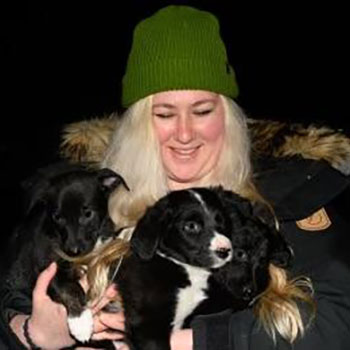 As APS-FH has grown and expanded our programs and services, Beth Anderson, our Shelter Manager has outgrown her position title. Today, we are proud to announce Beth's promotion to APS-FH Program Manager.
Beth Anderson began working at APS-FH as a part time Animal Care Team Member in 2018. In 2019, she was promoted to full-time Shelter Manager and over the past five-years has played an integral role in helping to develop and expand the community support and outreach services we offer today, as well as refining and improving the quality of care provided to pets in the APS-FH animal shelter.
Beth studied at the Evergreen State College with a focus in Zoology/Environmental Studies, graduated from small animal massage school at the Northwest School of Animal Massage, and was formally a licensed Wildlife Rehabilitator in WA State. Beth has held a wide variety of animal related jobs. Before working at APS-FH, she worked at Tails-a-Wagging Daycare and Training Center as an Attendant, a Zookeeper at Point Defiance Zoo & Aquarium, and a Seasonal Rehabilitator at Wolf Hollow Wildlife Rehabilitation Center. Beth has two cats and two dogs at her own home but has held a lifelong passion for working with animals and works diligently to provide the best care and opportunity to every animal that comes her way.
As Shelter Manager, Beth has numerous responsibilities that include: hiring and managing the Animal Care and Medical Team staff members, monitoring the shelter's capacity for care and making decisions about animal intake, overseeing shelter and clinic operations and the care provided to all pets that come through our doors, coordinating Foster and TNR Volunteers, maintaining records and reporting statistics, and developing, writing, and assuring adherence to literally hundreds of shelter policies and procedures. Whew! Her role is complex, and she often handles sensitive, difficult, and even life-threatening situations – she does it all with exceptional skill and a deep commitment to care for the animals, staff, volunteers, and customers of APS-FH and people with pets in our community.