Acupressure for Animals Demo – February 16, 2019!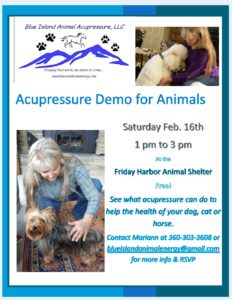 A demonstration of how animal acupressure works on our dogs, cats and horses will be given by Mariann Carrasco of Blue Island Animal Acupressure, LLC on Saturday February 16th from 1 to 3 pm at the Friday Harbor Animal Shelter.
Acupressure is just like Acupuncture only using touch instead of needles and is based on Traditional Chinese Medicine. The goal of practicing acupressure is to restore, replenish, and maintain the natural harmony and balance needed in animal and human bodies to create optimal health and well-being.
There are 12 major meridians that run along the surface of the body that can be accessed at key points. These points, as well as the meridians, can get blocked due to external and internal pathogens, leading to illness and disease if left untreated. By clearing these key points with touch, the Qi will commence flowing, clearing the meridians and assisting in eliminating health issues.
Conventional western and eastern medicines' scientific studies and clinical observation have proven that acupressure can:
Relieve muscle spasms
Build the immune system
Benefit chronic health issues
Strengthen muscles, tendons, joints, and bones
Balance energy to optimize the body's natural ability to heal
Release natural cortisone to reduce swelling and inflammation
Release endorphins necessary to increase energy or relieve pain
Enhance mental clarity and calm required for focus in training and performance
Resolve injuries more readily by increasing the blood supply and removing toxins
Come see what acupressure is all about and how it may be able to help your animal. No need to bring your animal. There will be a demonstration dog available to "show how it's done". Please contact Mariann at 360-303-3608 or blueislandanimalenergy@gmail.com to RSVP or questions. The demo is free!
https://www.apsfh.com/index.php/capital-campaign/events-2/acupressureThe Animal Protection Society of Friday Harbor announces it will hold a Grand Opening Celebration for its new shelter facility, Saturday September 29 from 2:00-4:00 in the afternoon. Our new facility is located at 938 Cattlepoint Road.
Members of the community of all ages are invited to attend and tour the new animal shelter and enjoy light refreshments. Parking will be limited, so carpooling is suggested.
For more information, please call (360) 378-2158.