Volunteer of the Month – Storrie Arnold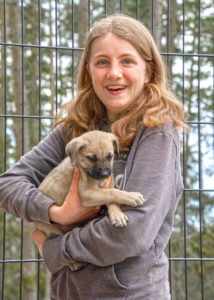 The Animal Protection Society of Friday Harbor has announced that Storrie Arnold is the Volunteer of the Month for April.
Storrie became a volunteer at the animal shelter at the beginning of the year and has been a wonderful addition to the organization.  She visits the shelter each week to walk and socialize with the dogs and cats.  She is also very helpful with cleaning and does not mind washing windows!  Storrie is super sweet and a real joy to be around!
The staff and board of directors at APS-FH sincerely appreciate your help, Storrie!