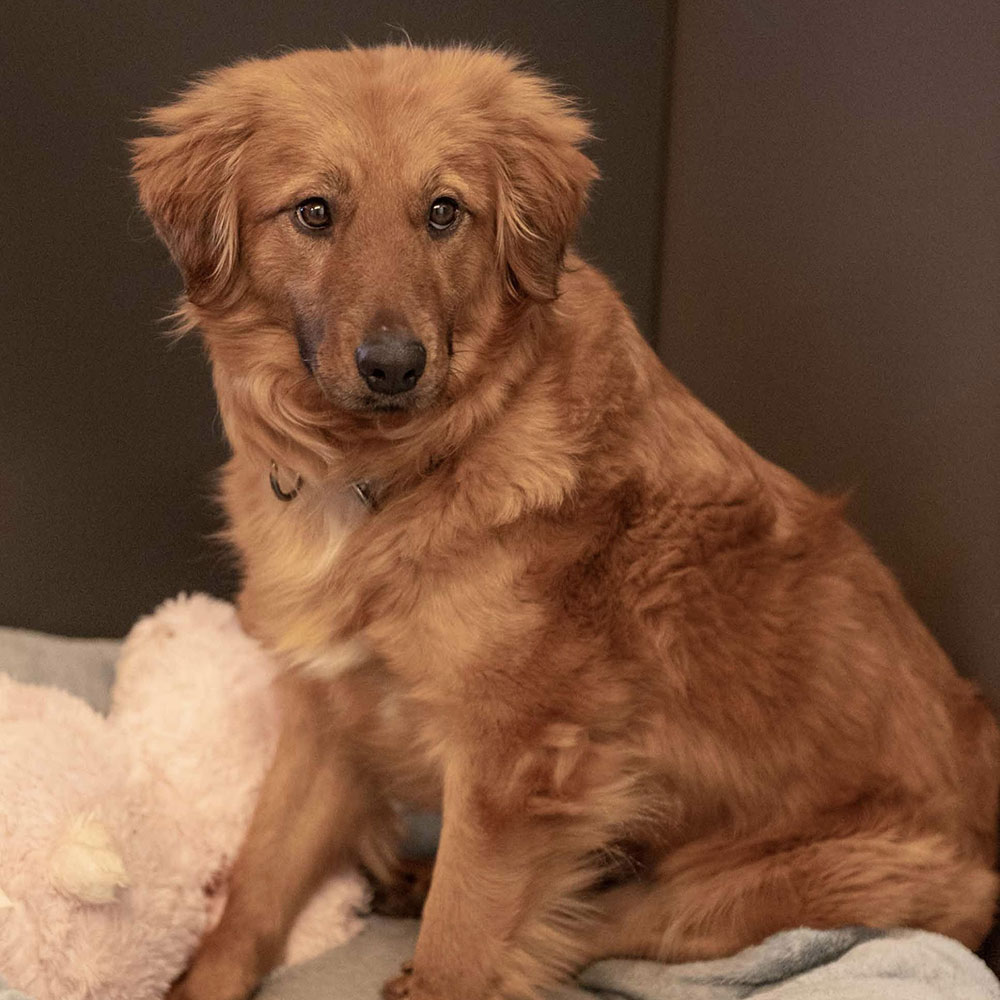 The Animal Protection Society – Friday Harbor is currently heading a rescue mission to capture a dog that has been running loose on San Juan Island for the last three weeks.
Queenie is a rescue dog that was transferred to APS-FH recently from a rescue group in Texas. She is about 4 years old, weighs 30lbs, and looks like a miniature Golden Retriever/Shepherd. Queenie was not socialized with humans prior to her rescue in Texas, but after moving into foster care she made progress quickly and was starting to build trust.
On December 20, 2020, just a week after her adoption, Queenie was spooked and bolted away from her owners at South Beach, in the American Camp National Park and has been on the loose ever since. Multiple volunteers sprang to action to try to quickly get her back, but she remained in flight mode and would not let anyone come near her.
APS-FH has now taken the lead of the operation and is officially responsible for Queenie's safe return. Various tactics of rescuing a scared dog have been attempted, however this operation has had many moving parts and will continue to be an ongoing effort until she is home. This has been a learning process for the shelter. APS-FH is not the acting Animal Control Agency for SJ County and therefore does not typically deal with these kinds of situations, especially to this degree. APS-FH has been in contact with the National Park Service, San Juan County Sheriff's Department, Fish & Wildlife, Wolf Hollow, and the Anacortes Police Department – Animal Control Specialist for assistance and guidance on how to safely get Queenie back home.
APS-FH would like the community to know that they are doing everything in their power to get Queenie back safely. There has been a tremendous outpouring of support from the animal-loving community that is San Juan Island, and citizens remain a crucial support group through continued reports of sightings to the shelter.
As of January 3rd, Queenie has left the American Camp Park, and we've now had multiple reports of sightings on private property.
It is still imperative that NO ONE attempts to approach her. Please do call the shelter immediately with any sightings and for further instructions. 360-378-2158. After normal business hours, please call the Sheriff's Office at 360-378-4151.
HOW CAN YOU HELP?
DO:
Report any sightings immediately
Inform any neighbors or visitors of her situation and proper ways they can help
Remain quiet and unobtrusive
Drive carefully!
DON'T:
Approach, follow, chase, sneak up, or try to FEED Her
Use deadly force against her – she is terrified and will be easy to run-off if threatening any livestock
Call out or yell
Stare at her
Try to grab her or catch her