On September 6th, local animal welfare advocates visited Northeast Washington.
The Animal Protection Society-Friday Harbor's Executive Director, Cristin Felso and Shelter Manager, Beth Anderson were invited to join a team of animal welfare champions on a special, private airplane trip across the North Central Region of Washington State, including cities of Omak, Okanogan, Cashmere, and Wenatchee. The goal of the trip was to visit with local animal welfare leaders and tour facilities, as well as pick up two litters of puppies to be transferred to APS-FH and Orcas-APS. The trip was organized by San Juan Island resident Cindy Koch, in a continued effort to address gaps in animal welfare services and identify potential solutions to decrease overpopulation and the number of unwanted pets in the region.
Members of the touring team included Cindy Koch, Jill Servais (Seattle Mariners), Mia Shepard (San Juan Island resident), and Founding Board Member, Yolanda Morris and Executive Director, Jenny Fraley, of Pawsitive Alliance, based out of Seattle.
There are many factors at play in Washington's North Central Region that create a challenging animal welfare environment including large, rural land areas that are geographically isolated, a high rate of poverty that presents barriers to accessibility and affordability of pet-care services (21.7% whereas the weighted average for the region is 17.6%), and few available resources to address the prevalence of animal overpopulation such as consistent and low-cost spay/neuter services, accessible animal shelters, and availability of other shelter/rescue partners to accept animals from the region through transport and transfer.
During the tour of the North Central Region of Washington, the group visited several organizations struggling to do all they can do for an overwhelming number of homeless and abandoned animals in a severely under-served and under-resourced region: Okanogan Regional Humane, The Cat House, Okanogan County Animal Foster Care Cat Shelter, City of Omak, and Okandogs are all organizations doing their best to cover the needs of the animals within their community, but are either struggling or unable to keep up with the demand. The commonality between all of them was a lack of funding, housing space, and access to resources for the homeless or stray animals in need.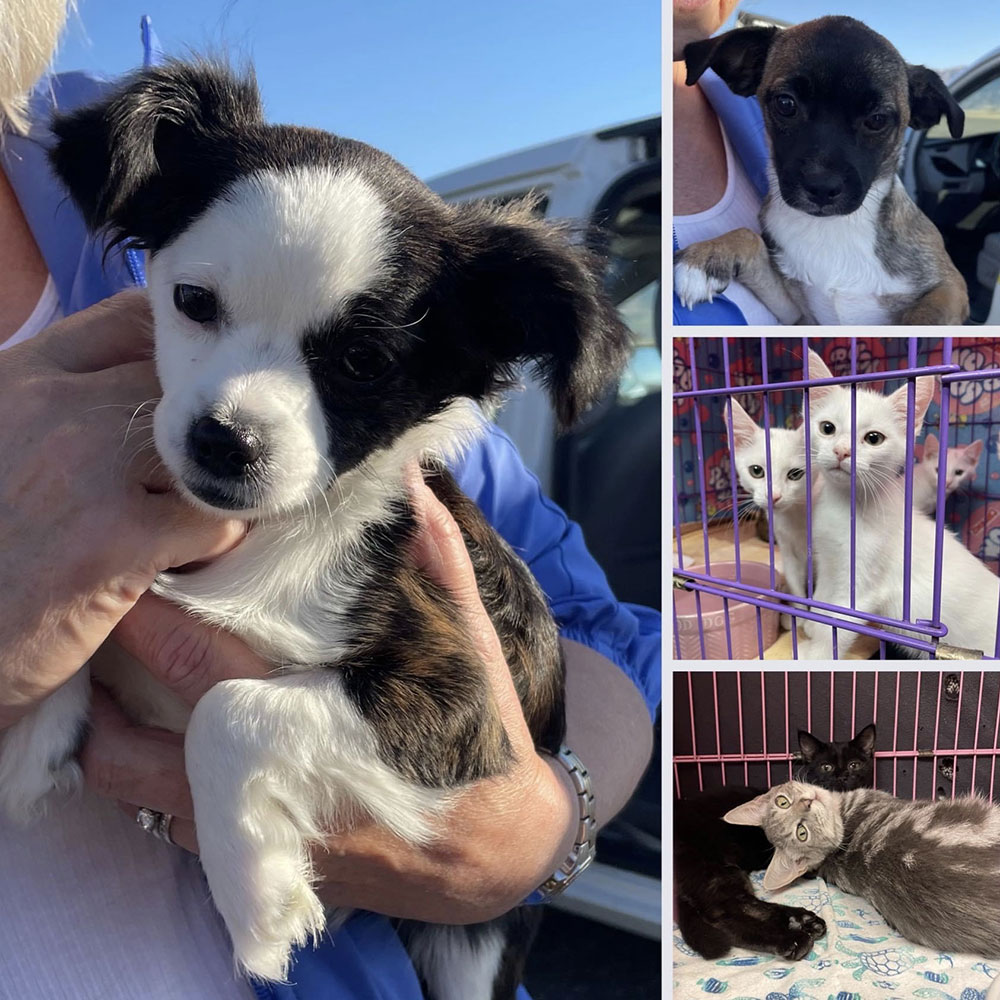 Through this visit, it is clear that the entire North Central Region needs access to sustained, low-cost spay/neuter (including TNR) and veterinary services via clinic and/or mobile units, and efforts should be made to increase public awareness regarding the importance of spaying/neutering owned animals. Finally, transport and relocation programs with shelters throughout the state are critical to shelters in this area.
So how does APS-FH fit into this puzzle? We are in the early learning stage of identifying ways we can support this region. We are working with shelters/rescues in the area to set transfer parameters that will allow us to accept animals more readily from the region. And, excitedly, our very own Shelter Vet, Dr. Merriss Waters, will lead a team of vets and other animal medical personnel during a large-scale high quality, high volume spay/neuter, vaccination, and ID event taking place at Okanogan Regional Humane in Omak October 21 – 23rd. At least 200 animals will receive services through this collaboration put together by Okanogan Regional Humane, Animal Balance, and Pawsitive Alliance of Bellevue (Funds raised for the event by Paws With Cause and other dedicated individuals).
In addition to the insight APS-FH reps received on this journey, they were also able to tie in a transfer of 8 small, mixed breed puppies from ARFS of Grant County and Okandogs. All pups will soon be available for adoption through APS-FH and Orcas-APS. By adopting a rescue pet, you can make all the difference in the life of an unwanted animal, while helping support the many organizations working together to resolve animal welfare related issues.