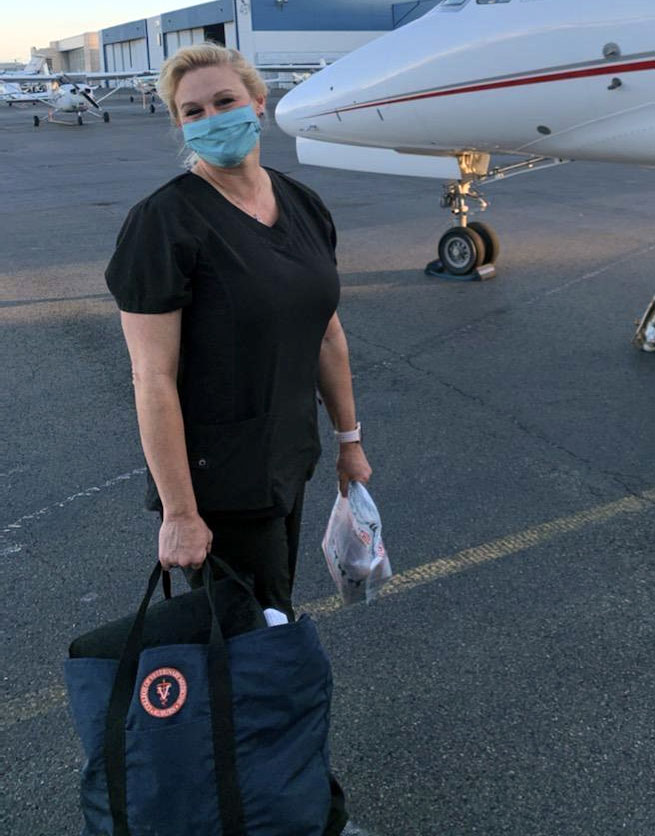 On Sunday, August 2, five North Carolina hound-dog mixes arrived at Animal Protection Society – Friday Harbor where they will be cared for until adopted. Landing in their "forever homes" will be an incredible end to an epic journey for these dogs.
The story begins with a kind and generous gentleman bringing a stray dog into APS-FH and offering to sponsor the dog should the owners not be found. The owner was quickly located but the dog had already provided the spark that would ignite a generous man, three animal welfare organizations, one volunteer veterinarian, and a Cessna Citation X to embark on an unusual rescue mission.
A conversation ensued between APS-FH Executive Director Cristin Felso, and Shelter Manager Beth Anderson, and "the gentleman" – who prefers to remain anonymous. The man learned from Seattle Beagle Rescue (SBR) about a dire situation for dogs in Raleigh, North Carolina and said he wanted to help save lives by funding a transport of dogs out of this high-risk situation and into Washington State.
Beth reached out to SBR and a North Carolina volunteer, "Shelter Networker," and was told by the North Carolina rescue volunteer that "North Carolina is the state with the third highest euthanasia rate. There are no laws about spay and neuter, so hundreds of dogs are born and killed every day. We have hounds and beagles surrendered to shelters, normally a few at a time, because they were not good hunting dogs. We have horrible abuse and neglect and hoarding situations. I am working on saving two pits now that will die tomorrow if rescue is not found. We have hundreds of animal advocates who help, but it's like the saying goes, 'rescue is like trying to empty the ocean with a teaspoon.'" We were compelled to act and "the gentleman" found his rescue mission partner in APS-FH.
Efforts to use existing APS-FH transport partner organizations such as Wings of Rescue and Project Freedom Ride revealed that transport from North Carolina to Washington was not within their service capacity. Vehicle transport was considered, but with the heat of the summer and an imminent threat of a hurricane coming, made it too challenging. The "generous man" decided to charter a plane and grant APS-FH funds to cover all expenses for transport. Now it was up to APS-FH to continue coordination efforts and an unbelievable amount of logistics to pull off the rescue mission. APS-FH Shelter Manager Beth rose to the occasion in the most impressive way.
Beth's first call was to Dr. Jamie Baugh, a Washington DVM (pictured above), who volunteered to fly with the dogs and provide professional care and comfort to them on their journey. Beth skillfully navigated, coordinated and negotiated all details about kennel sizes, number of dogs versus plane size, weight capacity; dog boarding, vetting, issuance of health certificates prior to transport; purchase of soft kennels and microfiber pads to protect the plane's seats; names and number of volunteers meeting the plane on each end; tail numbers, gate numbers, and all things airport – she. Therefore, on Sunday, August 2, 19 dogs – 7 adult and 7 puppy beagles for Seattle Beagle Rescue and 5 hound-dog mixes for APS-FH flew out of danger and into the safety of Washington State.
Dr. Jamie Baugh had this to say about taking part in the rescue mission, "You guys are awesome! You literally offered me an opportunity to do something I have dreamed about since I started vet school. Geographically transporting animals from overpopulated areas to a place where they can live their best lives. I look forward to future opportunities to work with APS-FH."
Today, Waylon, Charlie, Hayley, Oakley, and Rusty await your adoption application. To apply for your very own hound dog mix, please visit our website at apsfh.com and fill out the online "Canine Application" found under the "Pet Adoption" tab.
The donor asks to remain anonymous, so instead, we would like to honor his belated beagle, "Jack" (pictured below) as the angel who inspired an epic, cross-country, multi-hound rescue mission. Thank you, Jack!