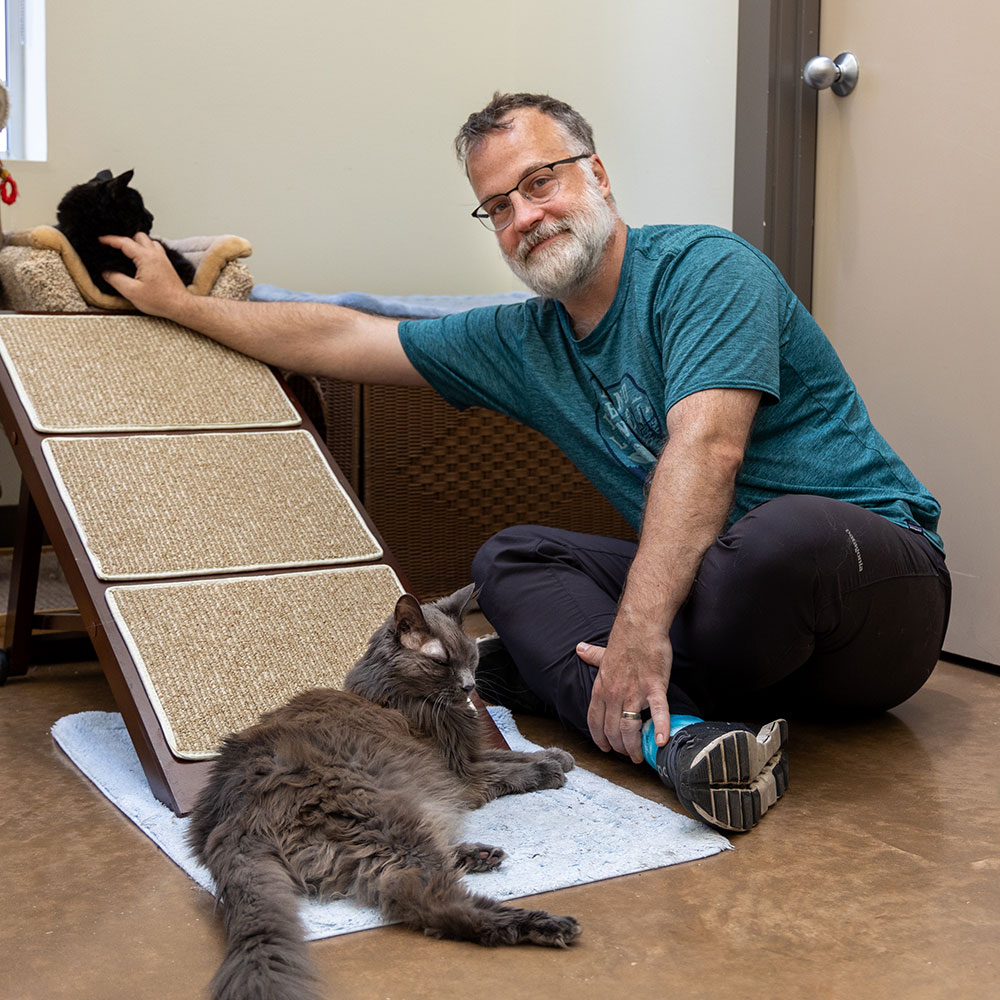 The Animal Protection Society – Friday Harbor is pleased to announce Courtney Memmott as the APS-FH Volunteer of the Month for September 2023!
Courtney has been a dedicated volunteer with APS-FH since April 2023, where he works a weekly shift in our shelter as a Cat Socializer. For
Courtney, becoming a volunteer in general was in an effort to "be a better person", and to find ways to give back to his community. When he thought about where to start this endeavor, the shelter felt to him like a natural fit; turns out, he was completely right!
Us humans, and animals, at APS-FH have greatly, positively, benefited in the six months of having Courtney on our team. Whether it's the cool and calm he brings to the cats he visits with each week, his consistent and observant nature which helps inform staff about the animals in our care, or the dedication he has for APS-FH as a whole, we all count ourselves lucky to have Courtney by our side!
You needn't be around Courtney long before you pick up on his innate ability with cats. He has an undeniable way of understanding all their different personalities; quickly picking up on each cat's individual cues and quirks. Although his shift is one afternoon a week, you would think based on how well the cats respond to his presence, that he's with them daily. He spends his shift time well, being sure to give each cat its due attention, and in no time the cats are positively responding to his gentle, compassionate, and caring personality, which seems to come through so effortlessly. There's truly no ifs, and, or buts about it – Courtney Memmott is a cat guy, and our shelter cats are all the happier because of it!
Given Courtney's natural cat pleasing demeanor, it may not surprise you to know that he has a slew of fond memories of the cats who have been in this life so far, or that he and his wife currently have three cats at home. But what may surprise you to hear is that Courtney is actually allergic to cats. Oh well, no matter! At least not for Courtney, who uses three drugs to keep the allergies at bay. Cause as Courtney proves every week as he volunteers with our shelter felines, cat love is so worth it!
We appreciate you so much Courtney! Thank you for being a valued part of our APS-FH team, and for all the love you bring to the cats in our care.