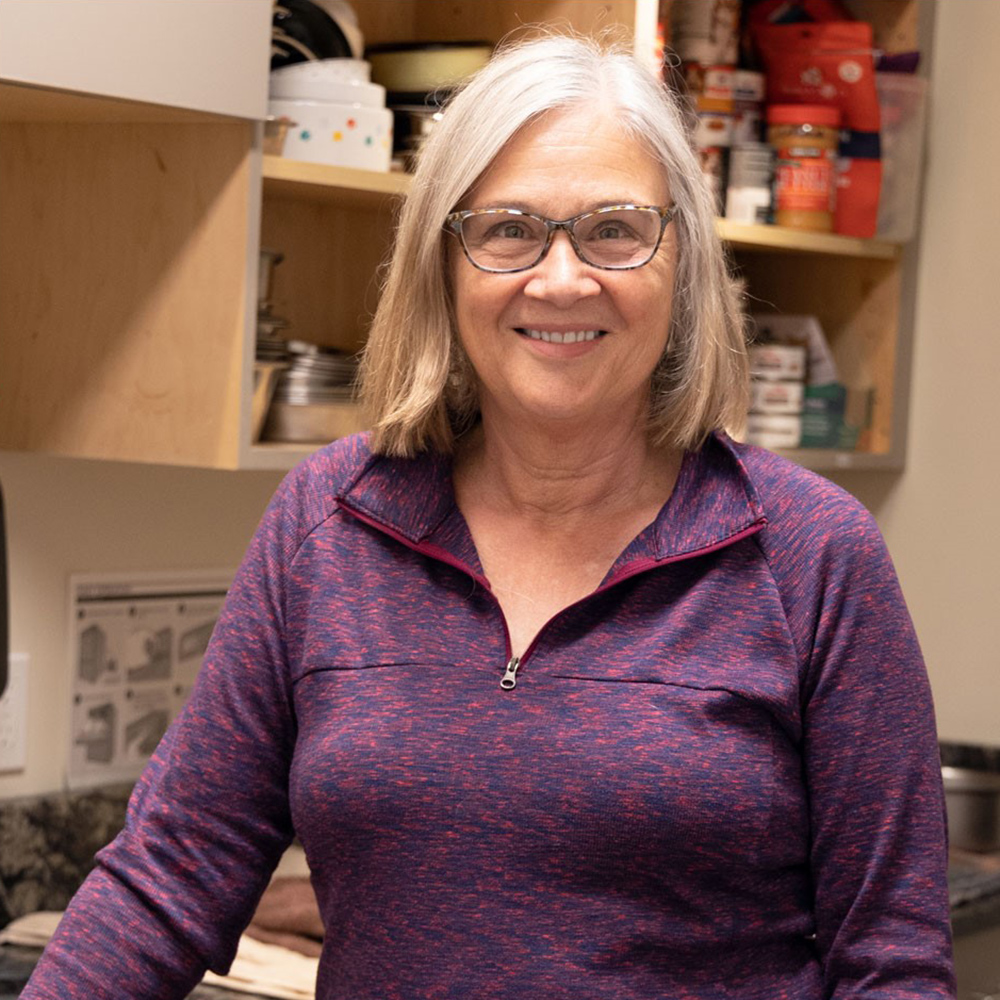 The Animal Protection Society – Friday Harbor is pleased to announce Karen Meenan as the APS-FH Volunteer of the Month for June 2023!
As a recent retiree, and finding herself with some extra time on her hands, Karen had a desire to give back to the community, and with her lifelong love of animals, volunteering at the animal shelter just seemed to make sense; so, she signed up to be an APS-FH Volunteer!
Since March of 2022, Karen has been part of our APS-FH team! You can find her spending her volunteer time socializing and playing with the cats and kittens of the shelter. However, it doesn't end there, Karen can also be counted on to help with the shelter chores, such as dishes and folding the mountains of laundry that can pile up. Karen shared with us that when she started volunteering with us, she was amazed with all that really goes on behind the scenes of an animal shelter; it isn't all the glamor that most people see from the  outside! Because of this realization, Karen decided that she would be most helpful if she were to work at tackling the seemingly never-ending  list of cleaning chores that need done daily in our shelter. She knows that by regularly doing all these chores, she's greatly helping to lessen the load of our small team of staff, which directly supports the animals!
Karen's favorite pet at the shelter is Hawk. She said that witnessing his transformation from intake to adoption has been one of the most rewarding and heartwarming experiences in her time volunteering with us. Hawk came in as a scraggly, withdrawn, anxious cat, and transformed into a full blown luxurious, superstar feline specimen; and none of that could have been done without the love and care that volunteers, like Karen, who provided for, supported, and encouraged him throughout his stay at the shelter!
It  doesn't end there folks, not only is Karen a rockstar volunteer, but she is also a dedicated adopter. She is lovingly "owned" by her APS-FH adopted cats, Sarah and Zoe, where we are sure they are living their best life in her care.
Thank you Karen! Your help as a volunteer goes a long way to help make APS-FH's staff and animal's days a little bit brighter!