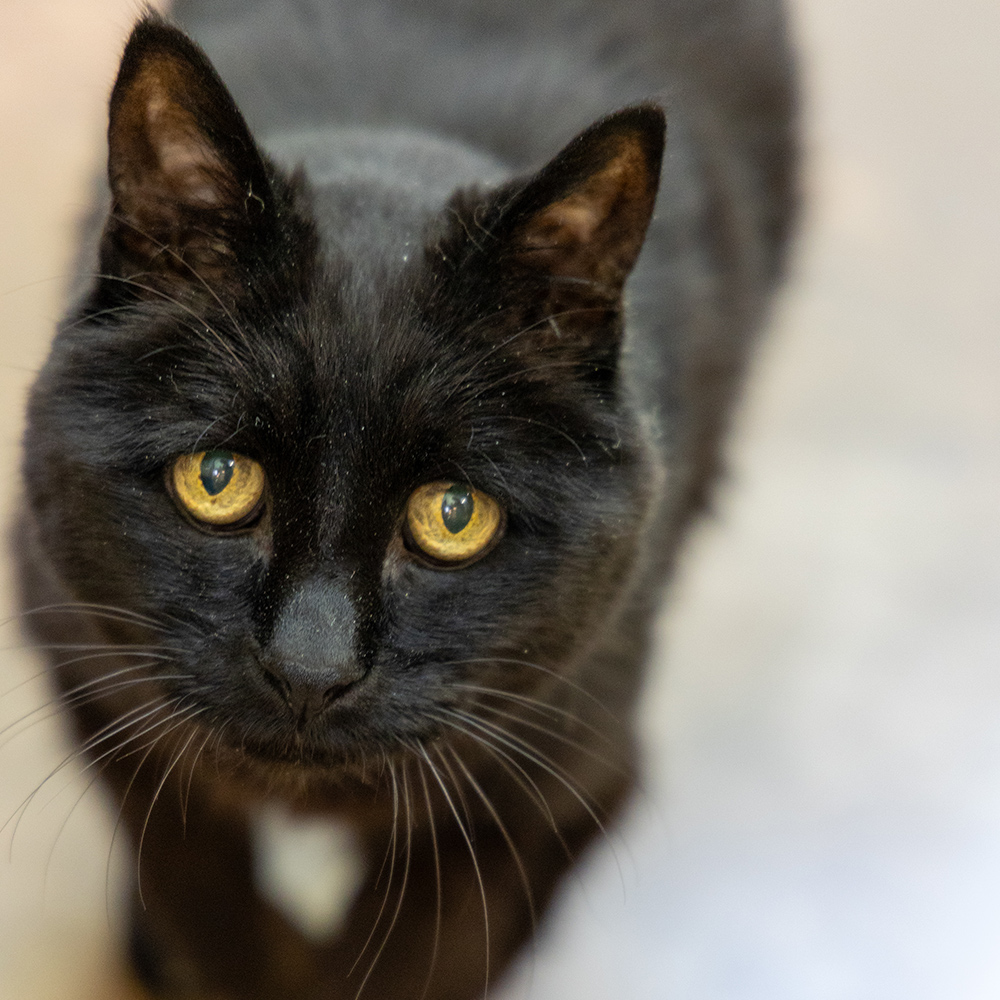 Age: ~12 years old
Sex: Female
Breed: Domestic Short Hair
Origin: San Juan Islands
Weight: ~9.5 lbs
Personality: Talkative, Polite, Complimentary
Energy Level: Low to Moderate
Likes: Aerobics Workout Videos, Singing, Tea Time
Dislikes: Things That Cause a Ruckus, Age-Related Jokes, My Achy Bones
Boo! Oops, I didn't mean to frighten you, that's just my name. I'm Boo, and although my name, and black fur, may make you spook, you should know that I'm a lady who is all sweet, and no scare! In fact, I'm so approachable that the APS-FH Team thought I'd do good in a space where I regularly get to meet a lot of new people, which is why they've made me the newest "Hallway Cat" of their Community Cat area!
At first I wasn't so sure about the whole thing, but I gotta say, the staff were right! Turns out being their Hallway Cat is one of the best gigs in the whole shelter, and I'm hopeful it will be the very ticket that gets me out of here, and into my very own loving home! As the Hallway Cat, I'm the first feline that greets anyone who comes to visit adoptable cats, SO, I do my very best to woo them with good first impressions; if they can fall in love with me before stepping foot into another cat room, then my chances for adoption are that much greater. Once they meet me, the gracious host, and hear my specialized-cry-meow, I have them right where I want them. Then I put on the charm, do my best to show off all my positive attributes, and give them my doe-eyed inquisitive look which begs the question, "will you take me home with you?"
Although it hasn't worked perfectly just yet, I have faith that my person(s) will walk through the door, into my hallway and my heart, someday soon!
If you are interested in adopting, come by the shelter for a visit, or you can fill out and submit our Feline Adoption Application on our website: