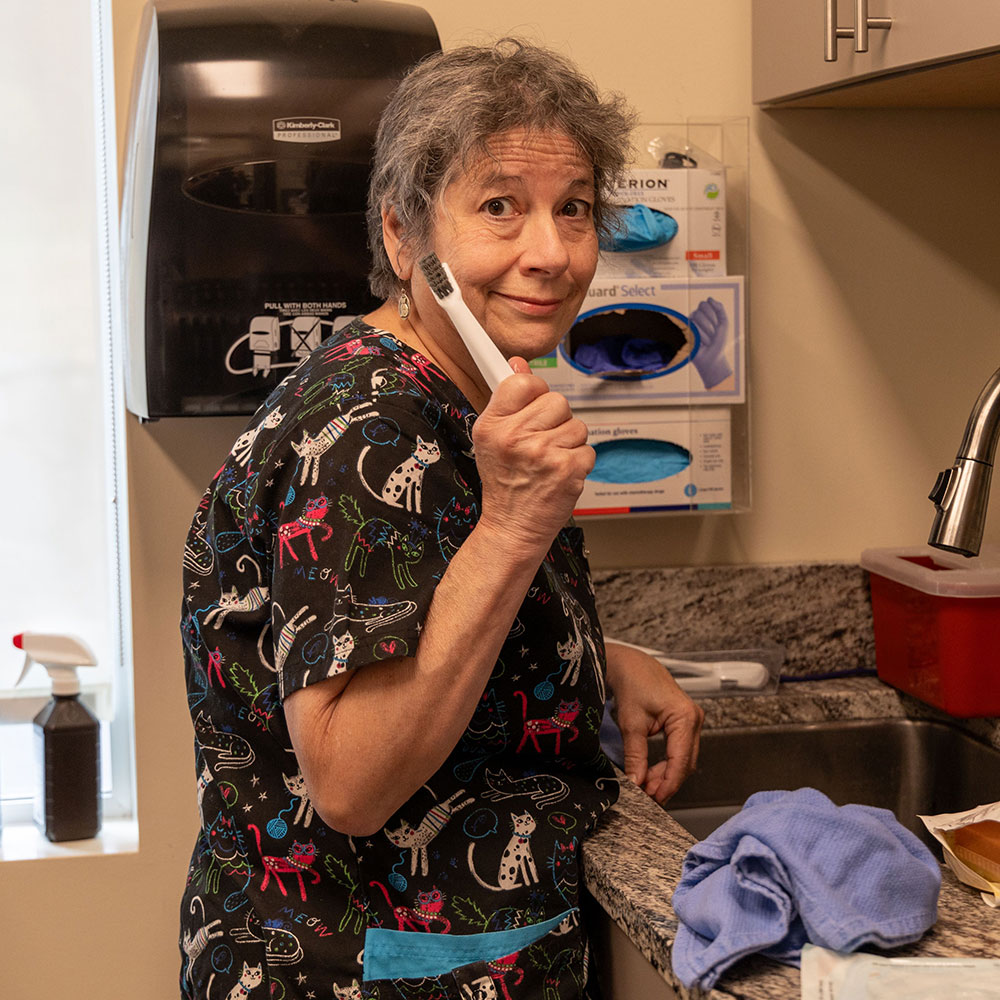 The Animal Protection Society – Friday Harbor is pleased to announce Nikki Ruggiero as the APS-FH Volunteer of the Month for July 2023.
Currently Nikki is volunteering with our Low Income Spay/Neuter Clinic, where she's been assisting since March 2023. However, if you look back throughout our APS-FH history, you'll see that she has played so many parts in our story. Nikki began her work at APS-FH back at our old location, where she wore many hats, including:
co-managing, voluntarily becoming the dedicated groomer for elderly cats, as well as enjoying her many adventures in kitten fostering. When looking back on that time, Nikki recounts, "I used to be round the clock for kittens, and loved them so much." Nikki is so well versed in kitten fostering, she helped develop our current kitten foster program, co-teaching classes on kitten fostering to new fosters!
Aside from all that she has given in service to APS-FH, Nikki has been in the animal welfare space for 20+ years, including wildlife rehabilitation, with time spent working with Wolf Hollow Wildlife Rehabilitation Center. With her innate knowledge and comfort with animals, it would be easy to assume this has always been her trade, but more specifically, Nikki is in the business of caregiving. Originally, she was working as a human nurse for 20+ years, when she found a crow with a broken leg, and thus changing the course of where her caretaking would take her; from humans to animals!
Now, in her retirement, Nikki is back with APS-FH and we couldn't be happier! Making her way back into the clinic work we do, was a natural fit for Nikki, and now she is a vital part of the team that keeps our surgical suite running so efficiently and safely from week to week. There are multiple reasons why this role is not for the faint of heart, or the weak; it's no easy feat to recover animals, detail while often holding yoga-like poses to make space for everyone, yet Nikki handles these challenges with grace, and eagerness. Additionally, Nikki brings a sense of calm and sincerity to every room she's in, making those people, and animals, in her presence all the better for it!
Thank you so much Nikki! You have been, and continue to be, an integral part of our APS-FH successes, and we're so grateful to have you on our team!