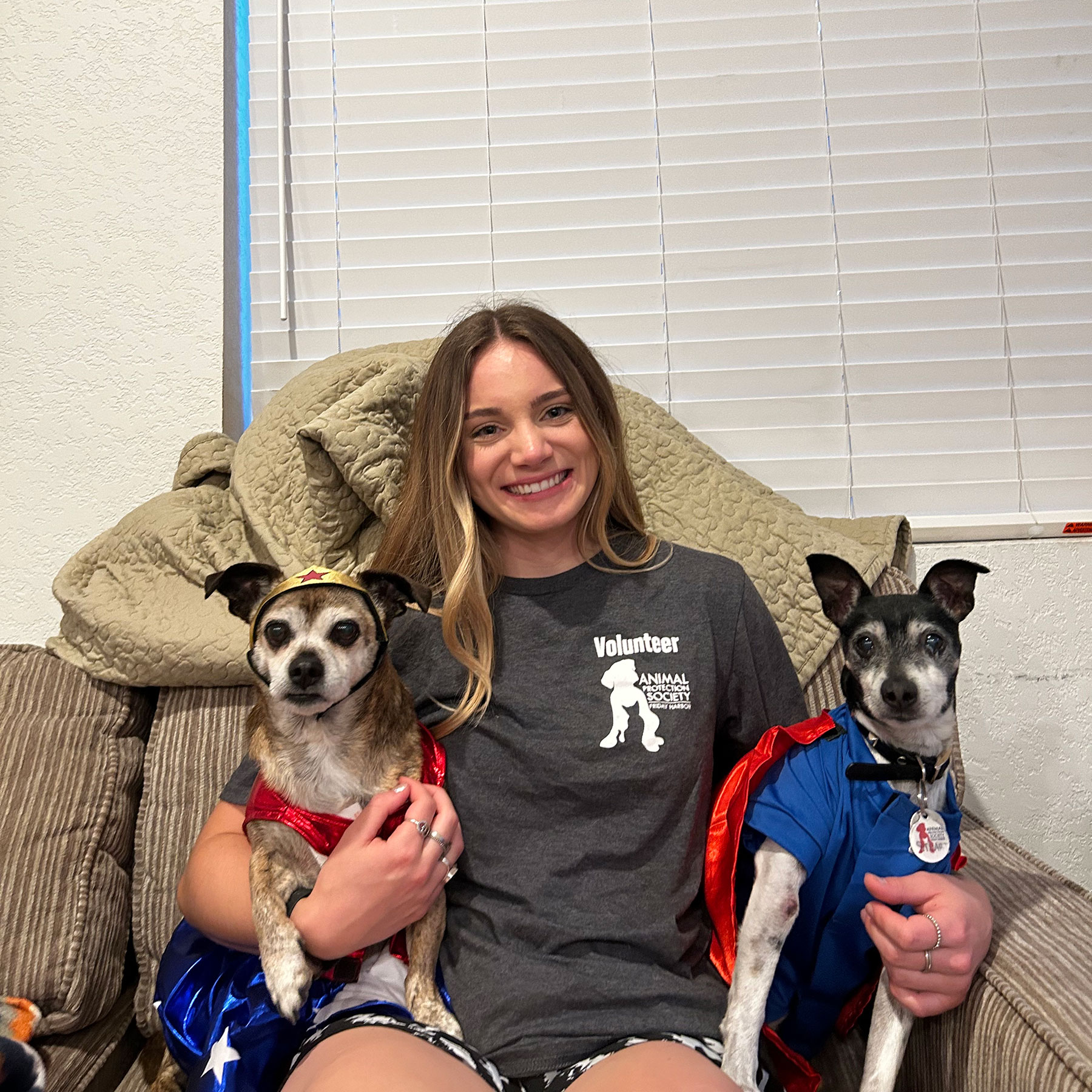 The Animal Protection Society – Friday Harbor is pleased to announce Allison Herkey as the APS-FH Volunteer of the Month for October 2023!
Allison became a Dog Walker Volunteer with the shelter in April 2023, but her journey with APS-FH actually began in November 2022. Back then she was living in Indiana, but having recently accepted a new job, was in the midst of planning her relocation to the San Juan Islands. In her research, she found and began following our social media channels, and in doing so, read about and fell in love with APS-FH shelter dogs, Willow & Stuart.
Willow & Stuart are a pair of bonded sibling, senior dogs who came to APS-FH after being surrendered in Texas when their person went into hospice care. They were unfortunately having a hard time finding their next person/home, and were at our shelter for many months. Over those months of waiting, Allison prepared for her move, all the while following along with Willow & Stuart's story.
Fast forward to February 2023, Allison was here with her parents, and seeing the island for the first time! Would you even believe their first stop off the ferry was our shelter? How freakin' special is that! That day they were given a tour,  which only solidified in person what Allison had been feeling from afar: that APS-FH, and Willow & Stuart were the perfect fit for her.  After moving here, she began volunteering in April 2023, and she adopted Willow & Stuart in July 2023! Ever since, all of us at APS-FH (both human and canine), and of course, Willow & Stu, have felt so lucky to know her.
For Allison, her dog walking volunteer shift is one of the highlights of her week. She knew from the very beginning that she wanted to prove herself as a volunteer who could be trusted to walk all the dogs, even the more fearful ones; after quickly going through all required training, and showcasing her capabilities, Allison is now a volunteer who does just that!
Whether it's super-wiggly pups, dogs still learning their manners, or more fearful and shut down dogs, Allison is able to go into their kennels, and get them harnessed up. From there, she takes each shelter dog for a mix of some exercise, and enrichment. Allison is great at using this time to learn each pup's personalities, and from there, catering her time with each to perfectly fit their personality. All the while, it's easy to see the dogs are smitten with her.
Whether it's her dedication and reliability, her innate ability with animals, her kindness towards all around her, her overall cheery personality, or her adoption story, we're all around thankful for all that Allison does for APS-FH! Thank you Allison!