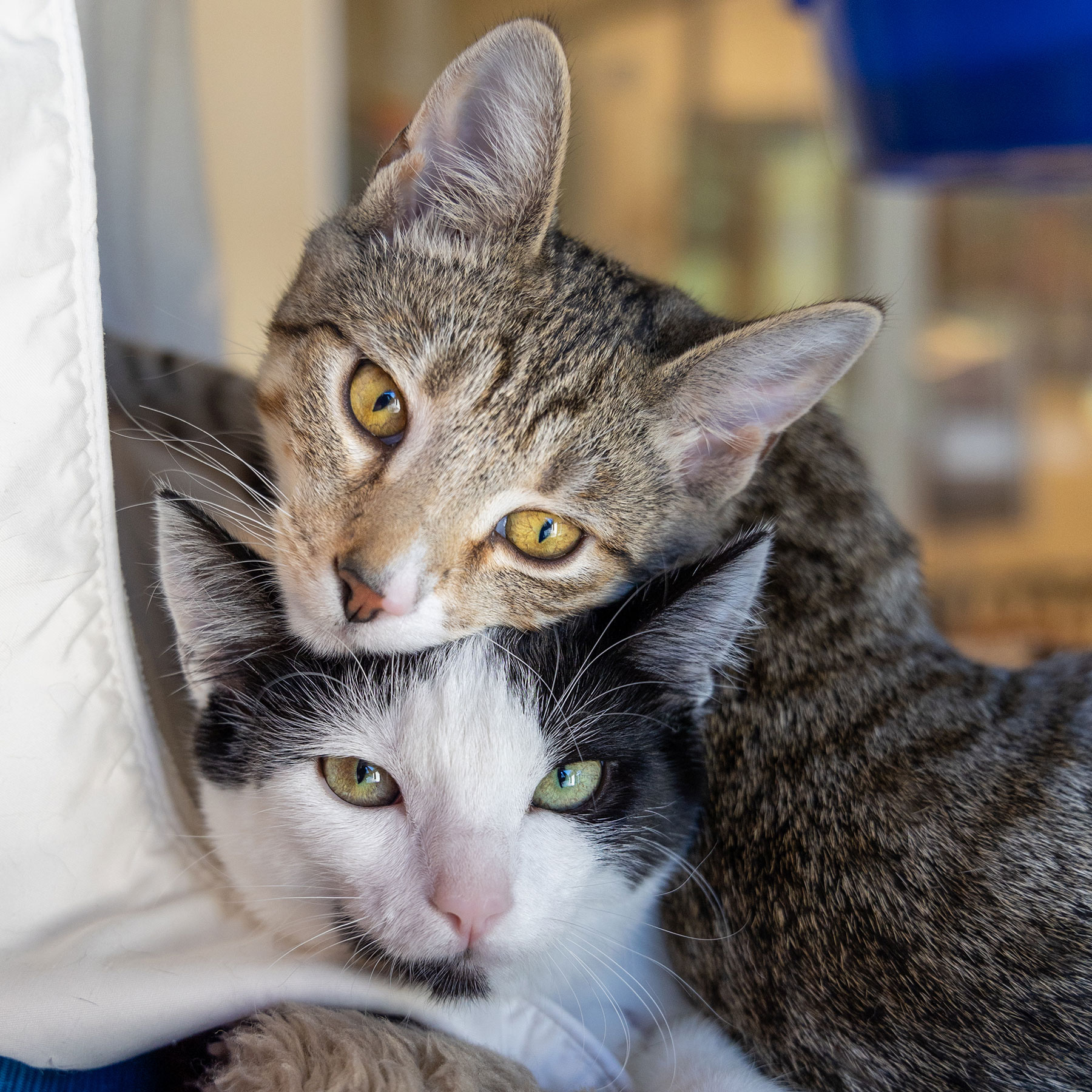 Age:  ~6 months old   
Sex: Male / Female
Breed: Domestic Short Hair, Tabby / Domestic Short Hair, Black & White
Origin:  San Juan Island
Weight: ~ 7lbs
Personality: Two Peas In a Pod Who Are a Rambunctious Yet Relaxed Combo
Energy Level: Typically Ron is more go-go-go, and Sammy more slow to start, but we're both kittens, so you get the jist.
Likes:  Yo-Yos, Bird Watching, Hammocks
Dislikes:  Decaf, Itchy Sweaters, Late Ferries
Hi we're Ron & Sam, and as you can tell by our photo, we're close. We're siblings who were trapped as kittens, raised by an awesome foster mom, and have been available for adoption ever since; there were more in our foster home, but they all got adopted, and now it's just us who got "left behind". We've been at APS-FH for the last few weeks, and we're hoping that there is someone out there who will take us both home with them, and love us forever.

Although we're siblings, and are very close, we are also quite different from one another, and often think of ourselves as yin and yang, here's what the shelter staff has to say about us:
"Ron is a vocal, confident, attention seeking (in a cute way) boy. He can play hard and fast, but also welcomes the chance to slow down and curl up for affection.
Sammy is much more reserved, and benefits from Ron's confidence. Sam is on the shyer side, and her introverted ways make her take time to warm up. However, if you take the time to get to know her, and show your trustworthiness, she'll show her affectionate and cuddly side too."
Whether you're looking for a lap cat, a skillful hunter, or something in between, you'll find your perfect fit with us two! Whether you're into tabby stripes, or black and white spots, you'll have kitten cuteness wherever you look!! We think the best person(s) for us would be someone who can appreciate all the ways in which us siblings are both different and the same, and love us because of it all. Could you be those people? Come meet us in APS-FH's Kitten Room to find out!