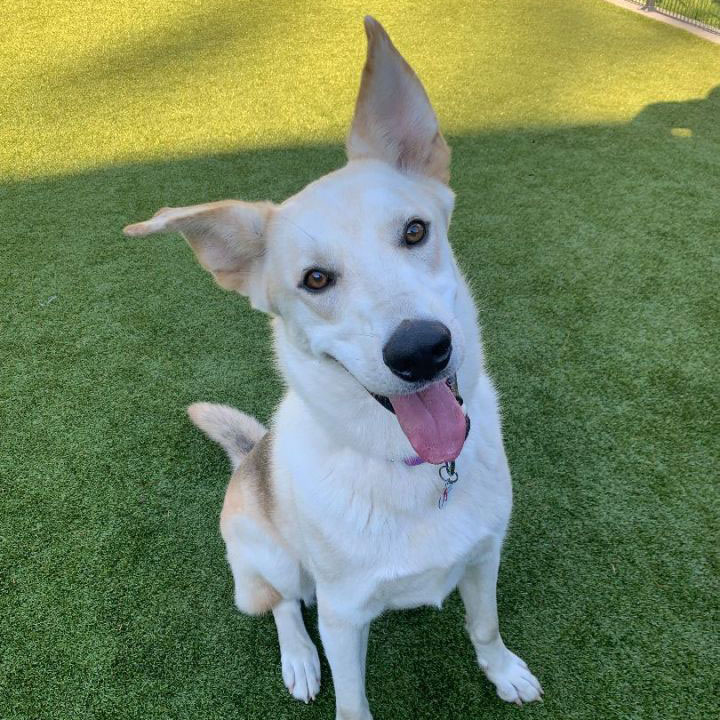 Age: ~ 2 years old
Sex: Male
Breed: Husky Shepherd Mix
Origin: Oroville, WA 
Weight: ~84.5 lbs
Personality:  Comforting, Jovial, Loyal 
Energy Level: Medium 
Likes: Ice Cream Sundaes, Big Ol' Bear Hugs, Snowstorms
Dislikes:  Humidity, Hunting, Hiccups
Hi, my name's Bear, and I'm new in town! Although I'm new to APS-FH, me and the other three dogs I came here with, are unfortunately not new to life at an animal shelter. It was one of these shelters, in Oroville, that we sat for a year, waiting for someone to come inside, and pick us to take back home with them; sadly, that day never came in Oroville. With no shortage of animals in need, shelters often work together in an effort to get every animal into the loving home they so deserve; transports, like the one I was on, are lifesaving, and give animals like myself, who sat for so long without any interest, a chance at finding love in a new location. It's not always easy to stay optimistic when waiting in a shelter, day in and day out, but I'm choosing to believe that what is meant to happen is happening, and that my forever will be found here on the San Juan Islands.
With a name like Bear, and a body size like mine, I would like to set the record straight: in the world of bears, I am all "teddy" and no "grizzly". Mostly my big size just means that there is more of me to love. Do you think you could love a bear like me? Oh, I hope so! If you're interested in meeting me and/or taking me home, just talk to my friends at APS-FH to learn more!