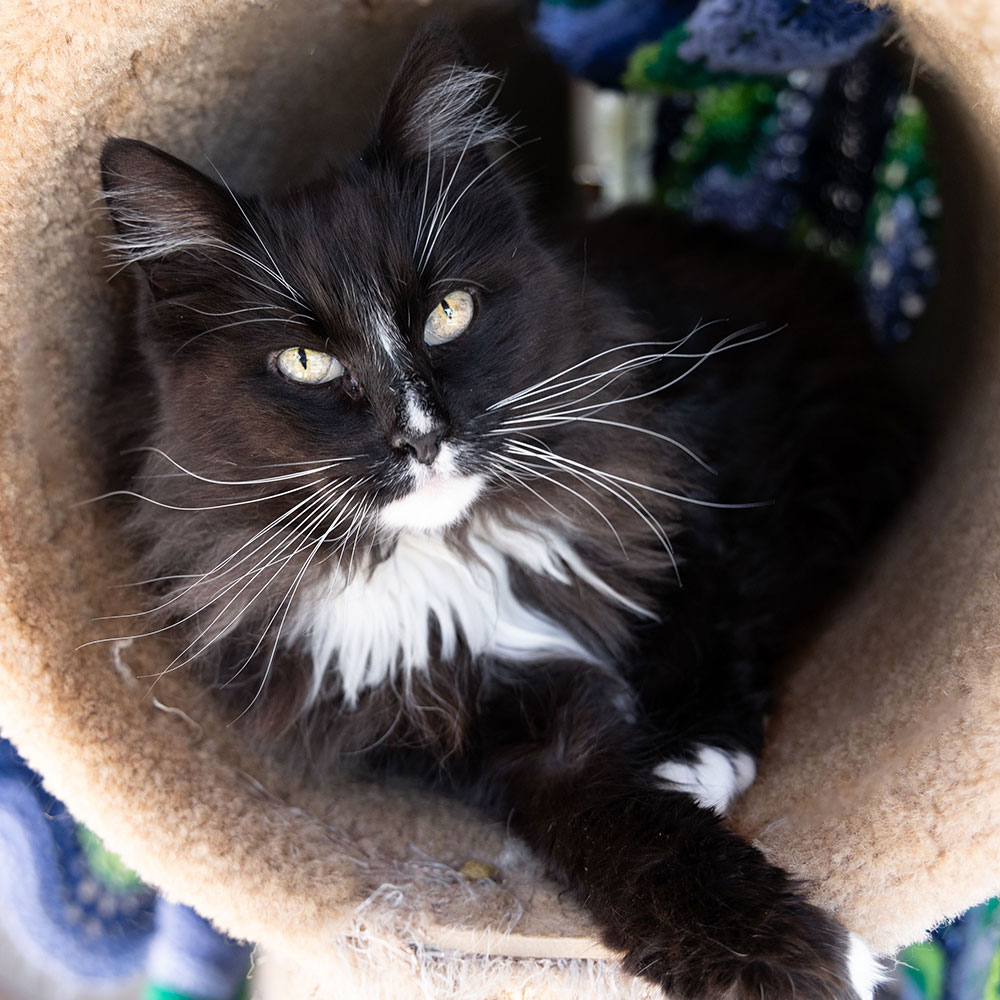 Age: ~11 – 14 years old
Sex: Female
Breed: Domestic Long Hair
Origin: Lopez Island
Weight: 11 lbs
Personality: True-To-Self, Personable, Wise
Energy Level: I can still hang with the best of them
Likes:Witchy Women, Lost Boys, Fleetwood Mac
Dislikes: Black Cat Stereotypes, Dirty Litter Boxes
Hi, I'm Tinkerbell and I'm the newest senior lady to come onto the "adoption floor" at APS-FH's Community Cat Space, although you won't find me in the Senior Suite. That's because I'm still quite youthful at my age, and I feel grateful to still be so limber. As you can see from my photo, I have always loved a good cat tree, and I'm happy that they're still an option for me, without the assistance of lower ledges. So, my disposition despite my age is how I've found myself the Matriarch of Cat Room 3, where I live with 4 youngsters named Ellie, Joel, Triton, and Flounder. Although my name comes from stories of Neverland, and the idea of staying young forever, I assure you my secret doesn't come from magic or fairy dust. Instead, I think it comes from some things I've learned along the way, to help me stay feeling young well into my older ages, and those are:
Find the things that make you happy, and do them often.
Surround yourself with friends who allow you space to grow and evolve into all the version of yourself you find along the way.
Be kind and thoughtful as often as possible – to yourself and to others; it feels good, it does good, and karma will be good back to you.
Make sure to move every day. Exercise is annoying most of the time, but it's important and does the mind and body a lot of good.
Imagination and storytelling aren't just good for the soul in childhood; they should stay with you always.
Do you have some such tips to help you feel great at any age? Come into APS-FH, Cat Room 3 and share them with me!